January 31, 2015
EWB Assessment Trip to Bergnek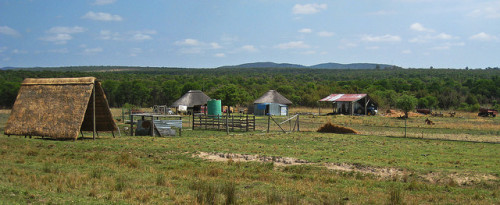 Our assessment team for the Bergnek Water Expansion Project was an interesting group of five persons with varying ages and experience. This helped us ask all the necessary questions and leave with a lot of answers to proceed with design. The length of trip was just short of 2 weeks, which was ideal to accomplishing all the tasks as well as having a little down time. Travis was our fearless leader, managing our agenda and coordinating meetings. He is a recent graduate from Texas A&M Chemical Engineering program, currently employed at DOW Chemical. Rich and Mike are giving back after retiring from their fruitful careers, having previously volunteered together on an EWB project in Bolivia. Mike provided a wealth of experience and knowledge in civil engineering and surveying, which is invaluable for this project. Rich is a retired engineer from the Oil and Gas Industry and volunteered as our safety captain and master scheduler. Little did we expect to need use of the First Aid Kit until after the first night when Mike accidently hit his head. Brandon received his Masters from Rice University during which time he became involved with the EWB Houston Professional Chapter and remains a member from Seattle where he works on environmental remediation projects, so he led the experiments for soil and water quality testing. Joe joined the group midway through his round-the-world trip, helping provide extra leg work and hands.
Our guide and community local, Keith met us at Johannesburg to welcome us to South Africa. We rented a car, then started our 4 hour drive to Bergnek. The community has an approximate population of 3,000 residents, nestled in the highlands of the Limpopo District located about one hour south of Polokwane. Thankfully Keith was with us to help navigate because numerous times our GPS navigation system told us to exit and turn onto a road that did not exist. 'This is Africa' became a phrase we used to make light of such blunders.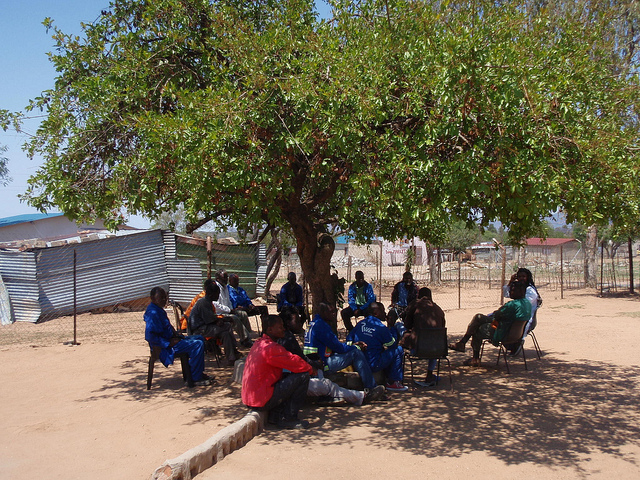 Once we arrived, our first agenda item was to meet with the Elders, but it did not happen as planned. The meeting was announced by ringing a gong under a shade tree a few hours later than scheduled and it turned into a spotlight event with the entire community present – 'This is Africa'.   The meeting was successful despite the brief chaos of reorganizing ourselves. Most of the community members had some background in English but Keith would translate to Sepedi to make clear our message. Travis introduced us and what we hoped to accomplish during our two weeks in their community. We asked those present to provide feedback on their concerns and what future developments they would like to see in Bergnek. Many had been displaced outside the city to live here, others moved here to work in diamond mines and the construction of a solar power plant. These projects, however, are no longer ongoing making employment the common concern. The few jobs available are farming and road construction for which workers are picked up in the morning to be driven out to the worksites.
A typical day started with a bit of exercise at sunrise. We would discuss our plan of action for the day and split into teams. For dinner, Joe even got experimental in the kitchen, which is where he strung up his hammock to sleep at night. He prepared beet root avocado wraps, 'Bergnek surprise', 'Joe Juice', cheesy pap and fruity papjacks. Peter, a resident with his own private well, invited us to use the showers at his house. He also organized a small gathering for a typical South African Braii. We would unwind at night making note of new discoveries from the day while enjoying a glass of wine or beer and once Amarula shots, a cream liquor.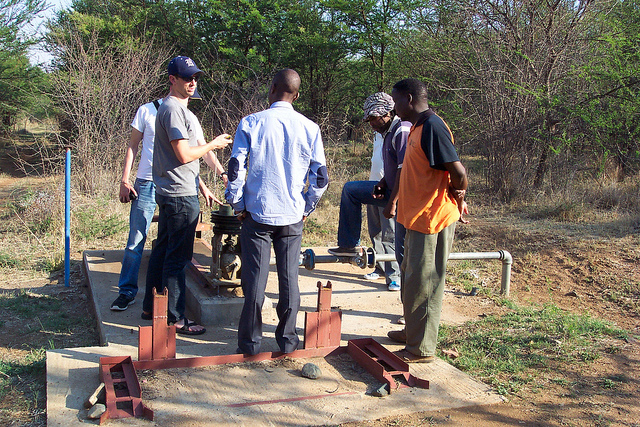 Field work involved gathering data points and GPS coordinates to identify important landmarks on an aerial map that Mike had printed and brought along. We visited the different well sites and observed how they were pumped. Water was once drawn from a well in the center of town using a mechanical hand pump, whose iron pipes and fittings used in this well oxidized with the water and stained teeth. Now a diesel motor is towed along a dirt road to a well located east of town along the banks of a creek. This well is the primary source of water for the community pumping up to six 10,000 liter elevated green drums in the center of town. A second well, located west of town across the highway is pumped using an electrical control system to an elevated rectangular tank on the school grounds. A third well is located south of town but has been abandoned. An underground piping system, operating by gravity under the head of the elevated tanks, runs along the town streets with taps rising at various locations. Families leave their empty 20 liter jerry cans around the taps to reserve their place in line for the one time a week when the water is distributed. The amount of water distributed is far less than the World Health Organization's standards. If a family runs out of water they must purchase from an outside vendor or ask neighbors such as Pete who has a pump on a private well.
This concludes part 2 of the South Africa Assessment Trip Travel Blog. Stay tuned for Part 2…